Welkom
WEGENS ENORME DRUKTE KAN HET VERSTUREN VAN JE PAKKETJE EEN DAGJE LANGER DUREN, EXCUSES VOOR HET ONGEMAK!
Lieve allemaal!
We mogen en kunnen nog steeds open zijn, maar dan is het wel van belang dat iedereen de regels goed opvolgt!
*draag een mondkapje
*houd 1.5 m. afstand
*hoest of nies in elleboog
*betaal liefst met de pin/contactloos
*3 a 4 mensen tegelijk in de winkel, dus dat betekent voor nu niet meer urenlang snuffelen, bij meer mensen meer kans op besmetting bovendien loop ik het risico op een fikse boete
*bij mooi weer kun je op het bankje wachten, anders even in de auto, als het echt niet anders kan dan in de workshopruimte
*er is de mogelijkheid om via de website te bestellen en af te halen, kies dan wel voor vooraf betalen dan kan ik op een afgesproken tijdstip de bestelling buiten klaarzetten op de roze tafel
*misschien overbodig maar: blijf bij griepverschijnselen of verkoudheid thuis!
DE WINKEL EN WEBWINKEL ZIJN GEWOON OPEN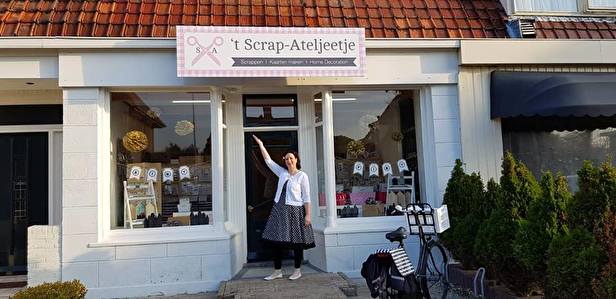 Welkom in het meest knusse en overvolle scrapwinkeltje van Nederland! Voor al uw benodigdheden op het gebied van scrappen en kaarten maken!
Doordat wij een drukke stenen winkel combineren met een webwinkel is het soms lastig om de voorraden in de webwinkel op peil te houden. We doen ons best, maar mocht dit eens niet lukken, dan bieden wij bij deze alvast onze oprechte excuses aan!
XXXXXXXXXXXXXXXXXXXXXXXXXXXXXXXXXXXXXXXXXXXXXXXXXXXXXXXXXXXXXXXXXXXXXXXXXXXXXXXXXXXXXXXXXXXXXXXXXXXXX
XXXXXXXXXXXXXXXXXXXXXXXXXXXXXXXXXXXXXXXXXXXXXXXXXXXXXXXXXXXXXXXXXXXXXXXXXXXXXXXXXXXXXXXXXXXXXXXXXXXXXXX
Mijn stijl? Soms lief, soms stoer, beetje vintage, beetje retro, soms heel uitbundig, soms ook best wel eenvoudig. Kortom: van alles wat! In ieder geval very girly!
Nieuwsgierig naar alles wat er zoal nieuw binnenkomt en wat er allemaal te beleven valt bij 't Scrap-Ateljeetje? Neem dan een kijkje op mijn FB-pagina
Groetjes Elly
't Scrap-Ateljeetje
Stationsweg 4
1761EB Anna Paulowna
0223694408
Kamer van Koophandel 55355072
e-mail: ellyvantrappen@yahoo.com